News
New Podcast
A new podcast on Loreto and Baja California Sur by Paul Ganster is now available: "Professor Paul Ganster On A Half-Century Of Love For Loreto," on Slow Baja.


Border Report: Climate Change Knows No Borders
Professor Fernando De Sales and Paul Ganster, director of SDSU's Institute for Regional Studies of the Californias, talk to the Voice of San Diego about climate change at the border.
Honorary Doctorate Awarded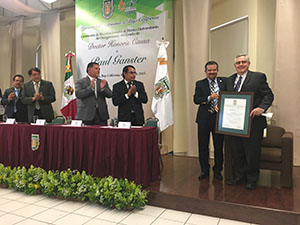 Congratulations to Professor Paul Ganster who was awarded a honorary doctorate, Doctor Honoris Causa, by the University Council of the Autonomous University of Baja California on December 1, 2016. The degree was presented by Rector Juan Manuel Ocegueda at a ceremony at the Tijuana campus of UABC on May 4, 2017.
UABC is a leading public university in Mexico with some 54,000 students in 3 main campuses in Mexicali, Tijuana, and Ensenada as well as 5 sub campuses elsewhere in the state of Baja California. It offers bachelor's as well as master's and PhD degrees.
The degree was awarded in recognition of Prof. Ganster's scholarly work and close cooperation with UABC for more than thirty years on joint research, education, outreach, and exchange programs.

Paul Ganster Recognized with ABS Lifetime Achievement Award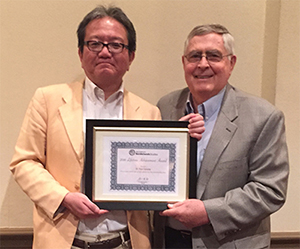 In a plenary session at the 2016 annual meeting of the Association of Borderlands Studies (ABS) in Reno, the Association recognized Paul Ganster with its Lifetime Achievement Award. Professor Ganster is director of the Institute for Regional Studies of the Californias at San Diego State University, where he has been a faculty member since 1984.
In presenting the award, Dr. Victor Conrad of Carleton University in Canada and chair of the awards committee, noted that Ganster had served as president of ABS and as co-editor of the Journal of Borderlands Studies. Ganster is an internationally recognized border scholar and is the author of dozens of publications related to the U.S.-Mexican border region. He also generated more than fifteen million dollars in research funding for projects on environmental and other issues of the U.S.-Mexican border region. He is currently the chair of the Good Neighbor Environmental, a federal panel that advises the President and Congress on border environmental issues. Ganster is also chair of the Committee on Binational Regional Opportunities, a group that advises the San Diego Association of Governments on border issues. Over the course of his career, he has been a Fulbright scholar in Costa Rica and a visiting faculty member at the Autonomous University of Baja California in Tijuana.
Dr. Akihiro Iwashita, President of ABS and director of the Border Studies Unit at Kyushu University in Japan, also extended his congratulations to Ganster as recipient of the award. He acknowledged Ganster's work with scholars in Asia and elsewhere globally to encourage the systematic study of border regions.
With remarks titled "Observation on Border Studies: Retrospective and Prospective" Paul Ganster discussed his career in border studies and the growth of ABS over the past three decades. He acknowledged the generous support of border studies by San Diego State University and also the enthusiastic participation of SDSU colleagues in border-related projects over the years. He noted the emergence of important centers of border studies in Baja California and discussed partnerships with these institutions. Finally, Ganster commented on the dynamic nature of border studies at universities around the world and stressed the importance of vigorous academic inquiry in a world faced with growing challenges and opportunities in border regions.